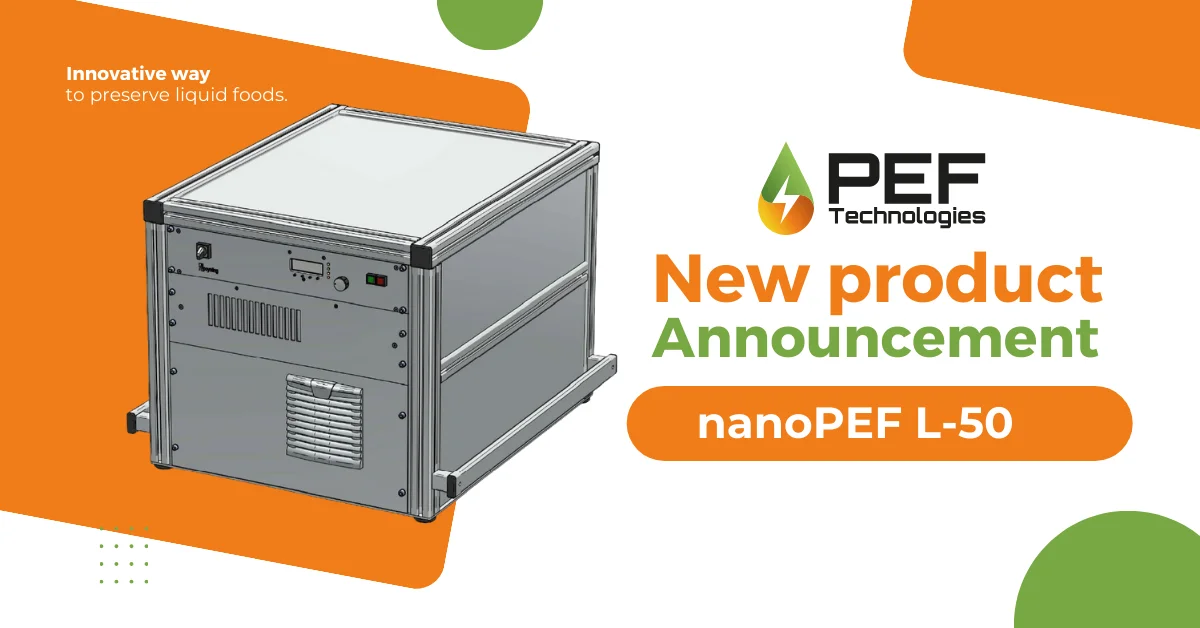 We are happy to announce the launch of our new product, nanoPEF L-50. This equipment was developed specifically for research groups to support the scientific community and private research institutions with a compact and user-friendly device to explore the influence of nanosecond pulsed electric fields on different liquids or solids placed in water-medium.
This new product was manufactured after extensive research within the market. The outcome is a versatile, efficient, and user-friendly product with many benefits, such as:
Processing of various liquids or solids placed in water-medium;
Fully adjustable processing parameters (frequency, pulse width, field strength etc.);
2 types of treatment chamber upon request;
Continuous flow with 10-50 l/h capacity;
Batch, 50-100 ml volume (or more upon request);
Certification: CE marked;
Construction: Aluminium/Stainless steel casing;
Compact design (< 1m²)
Weight: Up to 50 kg;
We are proud of our new product and can't wait to see the nanoPEF L-50 in practice. Therefore, we will propose privileged purchasing conditions for our first customers in 2023-2024. We will align the equipment according to your requirements and provide full assistance during your project. This way, we will make sure the product fits your needs and all knowledge is shared for a seamless implementation. For more information, feel free to contact us, without any obligation, using the contact form below.