Within this topic, we are sharing the people and faces behind PEF Technologies with you. At PEF Technologies, we work hard to make innovation work. But who is actually working on this innovation on a daily basis? This time we have our COO, Yulia Mitko, featured.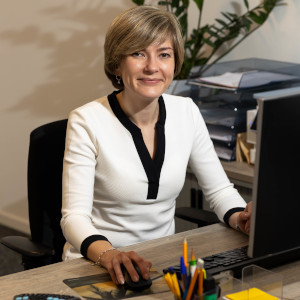 Get to know Yulia Mitko
PEF Technologies was established in the beginning of 2018 by me and my partner, Valeriy Mitko. Our current CEO, Meeuwes Buiten, joined our team in 2021. I graduated in 2010 from Moscow State University. My specialty is physics of solid state and radionuclide diagnostics. During my study I was a very passionate student. However, I have always felt the inclination to explore my abilities in the commercial sector. In the past, I successfully served as a marketing and sales project manager in the insurance sector and at an international news agency. Eventually, my working experience was not really related to my education until the moment we founded PEF Technologies.
Within PEF Technologies, I'm responsible for market research, customer validation, business development and general company operations. In my spare time, I like to draw and do photography. Besides that, I try to stay in shape by doing yoga.
When and why was PEF Technologies founded?
The actual idea of the company belongs to my partner Valeriy Mitko. His previous project was related to the development of high-voltage generators. He decided to use his experience for a completely different market, the food industry. It all started in 2017 when the project was generally outlined and some initial tests were made in our home, in our shed actually (pretty similar to Apple story). We started testing with nothing more than a desktop prototype, which Valeriy assembled completely himself. The test results were better than we expected.
I always wanted to discover the world of entrepreneurship. Combining this with the idea to facilitate modernization of food production and making food even healthier in the end was very appealing. Also, I believed in Valeriy's talent as an engineer and had no doubts that he would succeed. In 2018, we started to work on our first business plan and in 2019 we received a first early-stage financing from RVO (Vroegefasefinanciering). I should say that without governmental support and their belief in our project nothing would happen and we are very appreciative for this.
What is your aim with PEF Technologies?
Our aim is to substitute conventional pasteurization. Please don't get me wrong, conventional pasteurization is good and reliable technology, which was invented in the 1860s and was developed up to perfection through the years, however we truly believe that it is time to innovate. There is virtually nothing impossible for human intelligence. It makes me believe that nanoPEF will also take its place in food processing.
Also, looking at the global food demand, we need and are even obliged, to introduce new preservation methods which allow improving the nutritional value but at the same time reduce the reliance on fossil fuels. Thus, our goal is to present our first commercial machine next year and, hopefully, in 5 years time it will become a mainstream in pasteurization of heat-sensitive liquids.
What are your biggest learnings so far as an entrepreneur?
I've learned that the only thing that limits you from reaching your dream is yourself. Everybody knows that, but only when you find yourself in such a situation when you either act and achieve the goal or you fall back and lose, only then you start to feel this simple truth with your guts, so to say. We deeply appreciate the support of our investors, OostNL, Icos Capital and Energiefonds Overijssel, who helped us to overcome the difficulties and to move on with product development. If you would like to know what motivates us, it's very simple: the faith that with our technology we can benefit the health of future generations. On top of that, me, and the whole team, admire the dairy industry in The Netherlands. We admire the products of highest quality in the world and their hard work to make it. If there is a chance that nanoPEF could help them in their business, we take it.
With which company would you like to work together with the most?
There are many companies I would like to cooperate with in the future. Still, I will take a risk and call one company that is on the top of my list, FrieslandCampina.
Any last things you want to share?
As our journey continues to progress, we have reached a pivotal juncture where we are looking for food producers who are interested in exploring the benefits of nanoPEF. We understand that every new piece of equipment needs to be tested by customers, that is why we are ready to propose the testing of our pilot equipment on a privileged condition for our first customers in 2024 so that you can make a weighted decision on purchase. Our specialists are ready to propose to you a tailored approach and full assistance during installation at your production line. If you want to know more about me or PEF Technologies, please contact us via the below contact form.